Today is apparently World Tourism Day, a day to celebrate and raise awareness of the important role that tourism plays in building social, cultural and political values worldwide. We thought this would be a great opportunity to show the good things that holiday cottage tourism can bring – enriching communities and bringing economic benefit.   Given the headlines you often read, it'd be easy to assume that 'holiday cottages' are fundamentally a bad thing – the short-term accommodation sector has seen plenty of criticism in the press and in social media, often becoming the scapegoat for wider issues such as the failure of successive governments to adequately provide social housing.  There are also some bad landlords, and in some hotspots, you can see that the 'Airbnb effect' is fundamentally changing local environments and communities.   We were working in the short-term accommodation sector for many years before Airbnb was even thought of, and we always have, and always will try and be different. As a sector, we get a lot of bad press, and few chances to show the good things that tourism can bring. So here are a few words of positivity: 
We don't take residential rentals out of the community and turn them into short-term holiday accommodation. If owners approach us with a property to let via our agency we always look at the residential history of the building and ask the question '

But isn't this somebody's house?'

. In cases where we know a property has been shifted from long to short-term letting we refuse to take it on (and yes we really have had prospective landlords tell us '

they'll soon have the tenants out so it can be a holiday let

'!). Fortunately, those property owners are a minority and a far cry from the Under the Thatch team.

We firmly believe in keeping people in their communities by providing local employment. There's a misconception that holiday properties are largely owned by distant owners (in London/ abroad) and that the money is essentially being taken out of the community. That isn't the case with Under the Thatch – most of our properties are owned by people who live in the same county (in fact many live right next door). Many of our properties are owned and managed by Welsh-speaking families in rural areas that may have little other employment.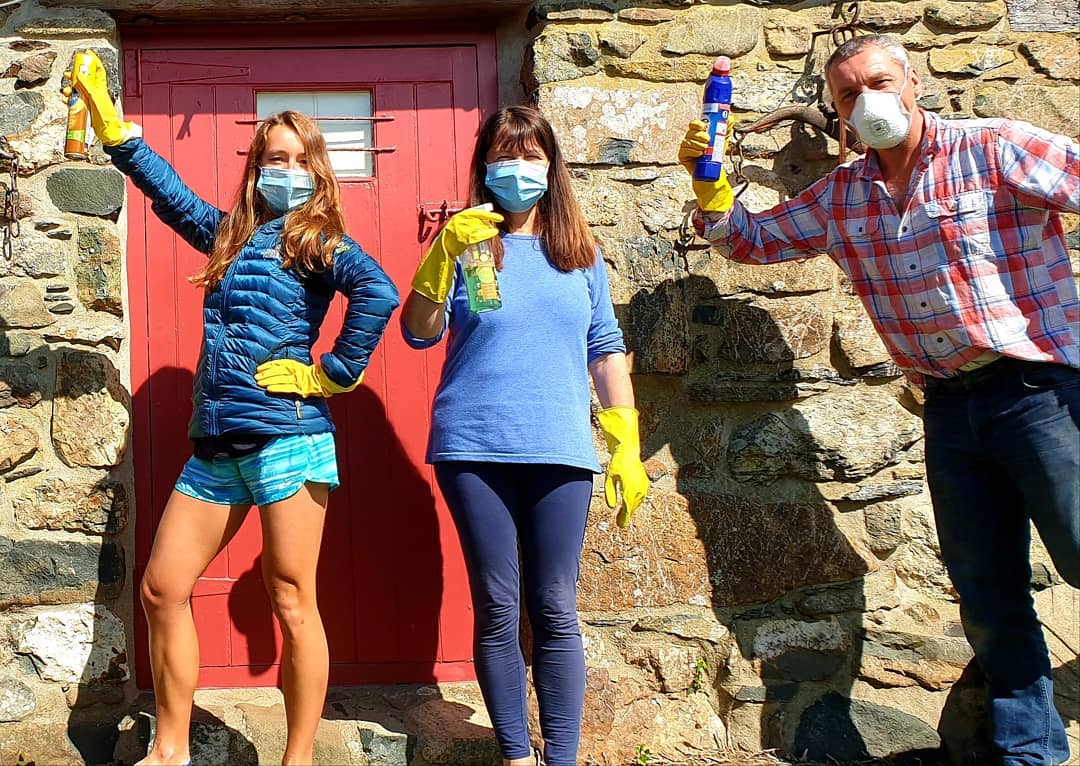 For years we've been directly rescuing derelict and underused buildings – bringing structures back into their communities and maintaining local heritage. We've also been supporting other owners with their projects to rescue buildings, and to bring them back into use using conservation principles. Many Under the Thatch properties

are in fact new builds and conversions, adding to the housing stock and the economy.
Flexible pricing means we achieve high year-round occupancy rates that benefit local communities in off-season – many of our holidays in low season make minimal profit once the overheads are taken into account, but we still consider them an essential part of our business model as it means that maintenance and housekeeping staff are provided with reliable year-round employment, and the tourism spend benefits the local economy all the year round. We've many properties that achieve well over 300 nights of occupancy a year. 

We try, where we can, to be as sustainable as possible in our renovation work (e.g. by massively insulating buildings beyond Building Regulations) and in the technologies employed in properties. Hence you're more likely to find a biomass boiler than a gas boiler in an Under the Thatch, and a good number of properties now have wet solar and Solar PV systems. We drive completely electric vehicles ourselves and are increasing the EV charging at UTT cottages. It's a complete blog post in itself, but sustainability should inform all decisions, even down to using scrap building waste timber as fuel in the cottage wood burners, etc.

 

The UTT business model means that we have the funding to undertake authentic conservation and restoration work of a high standard. Standards vary according to the historic nature of the property, but we're happy to have been recognized for undertaking some of the best building conservation practice in our projects in Wales, Poland, Spain, and Ireland. It's what we're known for and has become our USP. 

Tourism provides an opportunity to celebrate local culture – and this is something we're conscious of when it comes to dressing UTT properties, commissioning art, buying local antiques, and providing appropriate reading materials in our cottages. We run social media groups on vernacular furniture in Wales and Ireland, and try and source regional and local furnishings and antiques in our properties – and in that way, we can provide a rich local experience for our guests.

 
This is a huge conversation, and it could go on and on. There's good and bad in every part of every sector of the economy – but we hope that this little blog post has at least sent out a few pointers to the positive contribution that Under the Thatch letting cottages can bring to their communities